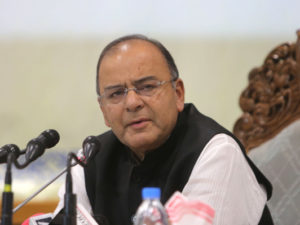 Hinting a cut in the number of products in 28 per cent GST slab, Finance Minister Arun Jaitley has said that certain products should not have been part of the particular tax slab.
"We have been gradually bringing them down. The whole idea is, as your revenue collections neutralise we must prune it and that is the pattern in which the Council has so far been functioning. I see that as a future guide as far as the Council is concerned," said Jaitley, during an event in New Delhi.
The hint from the Finance Minister has come a day after speculation of lowering the taxes on certain products by the Goods and Services Tax Council (GSTC) came to light.
The council is set to meet on November 10.Reportedly, the Centre has planned to lower the taxes on selected products of common use.
In its new tax regime, the council has readjusted the rates of many items and further changes are also anticipated.
Media reports suggest that some items can even witness 18 per cent rate cut.