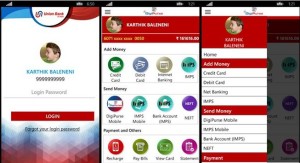 To help consumers avail services, like transactions, bill payments, etc., in an optimum way digitally through their mobile, nationalised bank Union Bank of India has introduced a digital wallet app DigiPurse for Windows phone users.
The Union Bank DigiPurse wallet can be used for bill payments, recharges, shopping or even to send money, said the company in a statement.
DigiPurse wallet will be one app for all utility payments, DTH, mobile recharge, post-paid bills, gas bills etc. Besides, it can also enable payments from one wallet to another, one wallet to other bank account and instant money transfer through IMPS. It has a virtual Visa card, which enables users to transact on any website for ecommerce transactions, the statement said.
Currently, there are no charges for using Union Bank DigiPurse wallet, the following are some rates:
Initial top up amount is Rs.500/-
Maximum top up amount is Rs. 10,000/-
Daily fund transfer limit – Rs.5,000/-