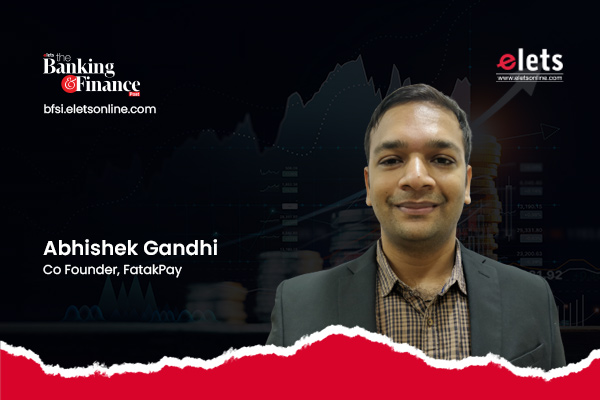 Fintechs – with the use of technology and process innovation – are trying to provide last-mile credit in an easy, hassle-free manner, from the comfort of their home and in the language of their choice. To know more about the development of various financial solutions in the Fintech sector, Srajan Agarwal of Elets News Network (ENN) had a conversation with Abhishek Gandhi, Co-Founder, FatakPay.
What is the core idea behind FatakPay? And on what platform FatakPay is working on currently?

A large percentage of our population earn less than 2.4-3L per annum and are not the focus segment of the organised lending fraternity. This segment is consistently besieged with various financial difficulties and lack of awareness on how to achieve their financial goals. Inflation, pandemic, loss of jobs, have also added to financial stress, which currently are large impediments for the middle and lower middle class.
One of the key challenges for them is access to credit in a holistic manner, which Fatakpay is seeking to solve. FatakPay is focused on driving financial inclusion by creating a platform for Employee Financial Wellness that enables an employee to access timely credit to meet their day-to-day requirements and create awareness on financial discipline and planning among other things.
How do you think it is necessary to have a multi-lingual approach for Fintech organisations?
Today is the age of SMART customers. Penetration of bank accounts, linking of Aadhaar, access to mobile internet has supported exponential digitisation further catalysed by demonetisation, COVID and penetration of UPI. Today's Bharat although not technologically challenged is extremely diverse and prefers to transact in the language of their choice.
In the words of Niti Aayog's CEO, fintech companies risk alienating audiences and losing steam if they ignore India's diverse set of languages and dialects while helping increase the coverage of formal financial services. Engaging with users in their local language, in a manner that respects them and their culture, is an important first step when dealing with a first-time digital customer. Vernacular is key to inclusion, deepen engagement and building trust and hence cornerstones for Fintech organisations like ours.
You are developing various financial solutions in the Fintech sector. What are the challenges FatakPay see in Fintech vs Traditional development?
Traditional bank-led models of financial solutions have struggled both in terms of access and its ability to serve the common man. They require traditional data points for credit underwriting which to a large extent are completely missing for this segment. Further, manual processes, undue paperwork, physical presence and time taken for decisioning intimidates this customer segment and drives them away to sources that are extremely expensive but at least more accessible.
In addition, smaller loan ticket size, lack of documentation, difficulty in collections, etc make them non-lucrative to traditional players. Fintechs – with the use of technology and process innovation – are trying to provide last mile credit in an easy, hassle-free manner, from the comfort of their home and in the language of their choice. Fintechs on the other hand are faced with strict regulations so that they don't run off the course and pay adequate attention to governance and consumer protection. This although important, also stifles innovation.
What is the specific target group FatakPay is focusing on currently?
In the given 50-55 crore credit invisibles or people who have lack of access to formal credit, we have segmented them to about 20-odd crore people who are employed in various segments like construction, retail, logistics, manufacturing, etc. Next, we also looked at the problems that employers of a very large workforce faced, which is around retention.
For blue-collared workers, even a Rs 500-1,000 increment is enough to make them switch a job. For employers, high attrition rates become a major problem. There is a lot of demand from these individuals for advance salaries. This segment lives from one pay cheque to the next with little or no savings.
Any emergency or unaccounted expense can disrupt their lives. We tie up with such corporates and help them deal with aspects like advance salary, attrition, working capital optimisation, etc, and they use FatakPay as an employee benefit programme, as a financial wellness programme that they can roll out to their employees. Hence we currently work in a B2B2C model.
How optimistic are you about the RBI's decision on co-lending model between banks and the NBFCs?
The RBI has always taken very prudent steps for the betterment of the banking and financial services space. They are committed to supporting innovative lending the modelion for fintech companies while keeping in mind consumer protection, fair practices and robust governance. The primary focus of the Co-Lending Model, is to improve the flow of credit to the unserved and undeserved sector of the economy and make funds available at an affordable cost, considering the lower cost of funds from banks and greater reach of the NBFCs. Although it's a step in the right direction, there is a huge mismatch in the current demand for credit by this segment vis-a-vis the penetration of traditional organisations such as NBFCs and banks. Fintechs with their innovation and ability to scale, play and will continue to play an essential role in providing access to credit to this segment.
What new innovations are you implementing in your organisation for the next 5 years?
Real India (average wage earners below 30K per month) will continue to be our main priority through our monthly credit line, thus helping them bridge the gap from one payday to the next. Furthermore, we intend to be the financial support system for this segment by offering a full range of financial products, including credit, savings, micro mutual funds and micro insurance as they progress in their careers.
Most importantly, Fatakpay will also enable them to build credit scores and access the formal financial ecosystem, which would otherwise be extremely difficult for them. Increasing our product portfolio and wellness offerings in a quick, easy and personalised manner will remain the thesis for innovation in our company.
How may virtual credit be used as an attrition management tool by the organisation's employers?
Majority of low to middle-income, early job entrants are plagued with multiple financial issues. Primarily they have limited access to capital and resort to moneylenders at high cost to sustain themselves.
Furthermore, they are hardly able to meet their day-to-day expenses and do not have large savings and any unplanned expense (medical, household, education, etc.) puts a lot of financial stress and again forces them into a debt trap. Such financial stress directly has an impact on job productivity, attrition and overall efficiency of an employee, the cost of all this is borne indirectly by the Employer.
FatakPay's vision & mission is to solve for overall Employee Financial Wellness which includes timely credit availability, educating and creating awareness on the concept of small savings & investment for future and security in terms of insurance and providing them the same. We work closely with the Employer and create an eco-system for Employee Financial Wellness through its offerings. This has resulted in lower attrition and higher productivity among employees.
Elets The Banking and Finance Post Magazine has carved out a niche for itself in the crowded market with exclusive & unique content. Get in-depth insights on trend-setting innovations & transformation in the BFSI sector. Best offers for Print + Digital issues! Subscribe here➔ www.eletsonline.com/subscription/