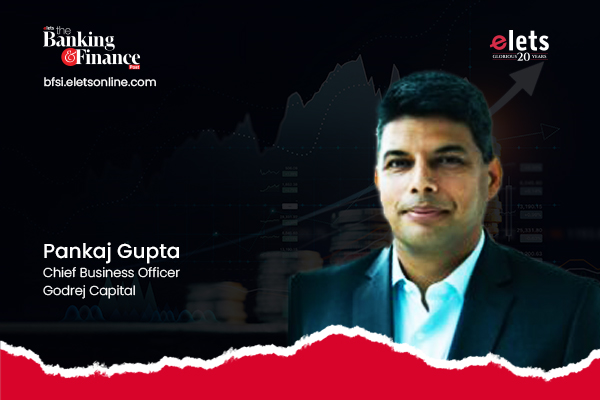 NBFCs have become a critical source of credit for the MSME sector, which contributes to over 30 per cent of the GDP and employs over 110 million people, shared Pankaj Gupta, Chief Business Officer, Godrej Capital in an exclusive interaction with Srajan Agarwal of Elets News Network (ENN).
Godrej Capital aims to become a one-stop platform for MSMEs. Can you elaborate on the approach and comprehensive solutions that Godrej Capital is offering to cater to the diverse financial needs of MSMEs in India?
MSMEs are revolutionising growth for the Indian economy. Despite over 6.3 crore+ MSMEs contributing significantly towards the economic and social development of India, these are still facing several challenges concerning access to formal credit, complex regulatory compliances, shortage of skilled manpower, difficulty in adopting technology and innovation, infrastructure, and working capital management, among others.
To cater to these, Godrej Capital brings several unique propositions specially designed to cater to the financing needs of MSMEs. Our MSME-focused lending solutions, in both the secured and the unsecured segment, offer quick loan sanctions, flexible payment plans, and product-specific innovations like EMI breaks, principal holidays, and interest-only periods to cater to the businesses' seasonal and gestational requirements, among others. Together with this, our ability to underwrite innovatively by leveraging advanced data analysis techniques to evaluate both structured and unstructured data allows us to assess a wide range of income sources and surrogates, providing a more comprehensive understanding of a business's financial health. Our commitment to leveraging data intelligently enables us to extend credit to a broader spectrum of MSMEs, fostering growth and sustainability.
Separately, Godrej Capital has also launched Nirmaan – a unique digital platform that goes beyond financing to help MSMEs boost their business, manage day-to-day activities with ease, and receive expert guidance to empower their growth and sustenance. With its carefully curated selection of partner offerings, Nirmaan acts as a comprehensive business solution ensuring MSMEs get access to a wide range of value added services at discounted pricing from the market. It's an ecosystem built to help MSMEs thrive by offering assistance in every aspect of their business journey. With this initiative, we aim to support the doubling of MSME's contribution to India's GDP in the next decade and also play our part in nation-building. This also immensely helps Godrej Capital as MSMEs are the target audience for lending through high-yielding products like Business Loans and Udyog Loan Against Property.
Achieving a target of 12,000 crore in Assets Under Management (AUM) by the end of FY24 is undoubtedly ambitious. Could you share the key strategic steps and initiatives that you are undertaking to attain this goal, and what milestones have been achieved so far in this journey?
At Godrej Capital, our key strategy to drive business resides in customer obsession. It has driven and continues to be a guiding force towards all our business and product strategies. So far, we have launched a variety of loan solutions, including Business Loans, Loan Against Property, Professional Loans, and Home Loans. Our loan book presently is a 50/50 mix of the housing loan portfolio and the MSME/SME lending portfolio, which we have ventured into quite recently. Having said that, the business loan vertical has been performing exceptionally well since its inception, crossing the INR 300 crore AUM mark in August 2023. We are witnessing a strong acceptance of the 'flexibility' features in the market and experiencing higher demand in Ahmedabad, Delhi, Hyderabad, and Surat, with significant interest seen across target markets, including Mumbai, Jaipur, Chennai, and Pune, among others. Our goal is to scale this product to over 60 markets, from the current 31, by the end of the next financial year. On the other hand, our newest product launch Udyog Loan Against Property is also garnering interest led by the ongoing festive season. With more products of a similar suite in the pipeline, we plan to treble our presence this year in the MSME/SME vertical.
Additionally, we have introduced several key product innovations, such as designing your EMI, where the customers enjoy the flexibility to repay their loans with features like EMI break, principal holiday, and interest only periods; and 'BizRewards' that instil excitement in the customers by rewarding their timely repayment behaviour. Our initiative like 'zero touch loans', launched amidst the pandemic, was also derived from the discomfort and disruptions the customers faced during the COVID-19 outbreak while availing loans. These key propositions set us apart from the competition and help us reach our targeted customer segment with ease.
Led by the flexibility that our lending products offer, we have already crossed INR 7,500 crore AUM mark and are on track to achieve our AUM target of INR 12,000 crore by the end of 2024. We further expect to increase our small and medium enterprises (SME) loan portfolio to INR 5,000 crore by 31 March 2024, from the current INR 3,500 crore. The eventual aim is to take the AUM to INR 50,000 crore by FY29, with at least about 60 per cent of this share coming from MSME/SME lending verticals.
MSMEs often face challenges in accessing affordable and timely credit. Can you shed light on the innovative financial products and services that Godrej Capital is offering to support MSMEs in their growth and sustainability efforts?
The overall debt demand for MSMEs in India is approximately INR 69.3 trillion, with a compounded annual growth rate (CAGR) of 11.5 per cent. However, there still exists a credit gap of around INR 25 trillion. As part of our continuous endeavor to work towards the betterment of MSMEs and contribute towards nation-building, we study and analyse consumer behaviour, trends, and patterns regularly and hold active discussions with borrowers, existing and prospective alike, to study what product offerings/features will meet their requirements best.
We ventured into MSME/SME lending in early 2023 to cater to the struggles and challenges faced by MSMEs in accessing adequate and timely finances, especially from formal and trusted sources and introduced several flexibility options in our loan offerings for business owners, who were already reluctant to opt for a loan due to the burden that comes with its repayment. Our Business Loans, a type of unsecured loan option, is an extremely flexible loan solution with key offerings like designing your own EMI plans, paying only interest for up to 12 months, zero collateral requirements, and exciting rewards for timely repayment. It's 100 per cent digital and quick loan approval makes the loan process hassle-free. In the secured segment, we recently introduced Udyog Loan Against Property, an excellent proposition for micro, small, and medium businesses to avail immediate funding without having to liquidate their property. It allows a wide range of income groups to unlock the value of their properties and avail of a loan against it, with key features including higher loan eligibility on multiple income sources, quick loan approvals, loan tenures up to 15 years, flexible EMIs, attractive interest rates, rewards on timely repayments, and more. Separately, we have also analysed that our customers are keen on availing a credit line facility clubbed with the availed loans, and so we are exploring an overdraft facility for borrowers as well.
On top of these, we have Nirmaan – a one-stop platform for all business needs led by its strong network of partners. Godrej Capital Nirmaan goes beyond just financing and extends support for businesses on critical parameters that can help them increase their customer base, ease their business operations, and upskill themselves and their employees.
Business loans are a critical lifeline for many MSMEs. What unique value proposition do you bring to the table in terms of providing these loans, and how does the company ensure that they are accessible and affordable for the target MSME segment?
At Godrej Capital, we take great pride in offering loan solutions that are specially designed to cater to the needs of small businesses. After studying customer and market sentiment towards loans, we realised that several Indians, especially MSMEs and small business owners, are reluctant to avail of a loan due to the burden that rigid repayment models bring with them. A business loan, similarly, is not seen as an impetus to growth and expansion amongst MSMEs as it should, but a deterrent in most cases. To resolve this, our team came up with one-of-its-kind product innovations that offer extremely flexible payment plans for our customers. Our flexible repayment model, clubbed with exciting rewards on timely repayments, is the unique proposition of our business loan that helps remove the 'load' from the loan, making external financing an accessible, affordable, and rewarding solution for businesses. Our business loans offer competitive interest rates, are 100 per cent digital, and support quick approval and disbursal process making them an attractive loan option for business owners. We have also run a campaign called #IssLoanMeinLoadNahi to spread awareness and educate businesses about these loans.
We are offering similar propositions for business owners who are interested in availing immediate funding by mortgaging their property via our product Udyog Loan Against Property.
Given your extensive experience and expertise, can you share some insights into the broader economic landscape and the evolving role of financial institutions like Godrej Capital in supporting India's economic growth, especially in the context of MSMEs and small businesses?
NBFCs play a vital role in driving economic growth, effectively transforming lives, and empowering small businesses. As per an RBI report, NBFCs' contribution to the total credit extended to the economy has increased to 29.1 per cent in February 2023 from 16.4 per cent in December 2022. These firms offer a diverse range of financial services, filling the gaps left by conventional banks and catering to underserved segments of society. Additionally, NBFCs have become a critical source of credit for the MSME sector, which contributes to over 30 per cent of the GDP and employs over 110 million people. However, there remains a significant need to revolutionise cash flow management for MSMEs in India. NBFCs like Godrej Capital and new-age lenders are leading the way in this transformative shift. By offering flexible repayment options and helping with business forecasting, we empower MSMEs to optimise their cash flows effectively. Our customised repayment schedules are designed to align with their business cycles, reducing the strain on cash flow, simplifying loan management, and enabling business owners to handle their finances efficiently. Moreover, we leverage our expertise in analysing historical data and market trends to help MSMEs anticipate cash flow gaps, plan ahead, and make informed financial decisions. This proactive approach allows MSMEs to adjust expenses and seek additional financing as needed.
With Nirmaan as well, we aim to extend our partner network by facilitating a platform that hosts a selection of partner offerings to elevate every aspect of MSMEs' business journey. The platform has been incubated for the growth and expansion of MSMEs and to increase their contribution towards the country's economic resilience.
Looking ahead, could you share your vision for Godrej Capital and the broader landscape of financial services in India? What emerging trends and opportunities do you foresee, and how do you plan to stay at the forefront of these developments to continue serving its clients effectively?
Godrej Capital is progressing towards becoming a TechFin company, that is providing financial services with a more customer and technology-centric approach. As per reports, digital lending is expected to grow into a market of USD 1.3 trillion in India by 2030. Godrej Capital remains focused on harnessing the effectiveness of its tech initiatives in simplifying operational challenges and improving customer satisfaction. This growth will be driven by the increase in the integration of advanced technology tools, leading to greater digitalisation and wider access to credit within the financial sector. However, it is important to prioritise skill development, conduct regular systems audits of technology tools, and maintain effective systemic controls to ensure the long-term sustainability of digital lending. As more banks embrace digital lending, it will gradually become a more prominent method for delivering credit going forward.
As part of Godrej Capital's customer-centric approach, we make extra efforts to understand customer trends, listen to their needs and wants, and plan what our next product and/ or offering should look like. With a plethora of products currently being explored or in the pipeline, we aim to achieve an AUM of INR 30,000 crore by the end of 2025-26, and about INR 50,000 crore by the end of the financial year 2029.
"Exciting news! Elets Banking & Finance Post is now on WhatsApp Channels Subscribe today by clicking the link and stay updated with the latest insights!"
Click here!
Elets The Banking and Finance Post Magazine has carved out a niche for itself in the crowded market with exclusive & unique content. Get in-depth insights on trend-setting innovations & transformation in the BFSI sector. Best offers for Print + Digital issues! Subscribe here➔ www.eletsonline.com/subscription/