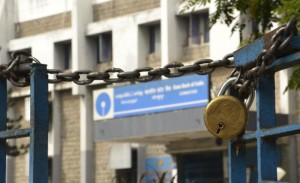 The nationwide bank strike on May 30 and 31 is most likely to affect month-end salary due to ATMs closure.
"ATM security guards will also participate in the strike. ATMs are part of the banking network. So, it cannot operate during a bank strike, he reasoned," said Rajen Nagar, General Secretary, All India Bank Employees Association president and Bengal Provincial Bank Employees Association (BPBEA).
The United Forum of Bank Unions's (UFBU) decision pertaining to the strike stands consistent as conveyed by Chief Labour Commissioner, UFBU.
According to UFBU, the nationwide bank strike will be organised on May 30 and 31, as the discussions on salary revision between Indian Bankers' Association (IBA) and the other bank union failed, said Chief Labour Commissioned.
The bank officials have said that they will replenish ATMs before the strike, however, this assurance does not rule out the chances of ATMs running dry.