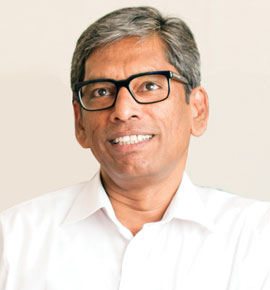 Company Profile
EPS is a leading retail banking technology and Automated Teller Machine (ATM) services provider founded in 2011 by veterans with over 150 years of experience in the banking, technology and retail payments industry in India. The company is headquartered in Mumbai, and was launched to address the demand for efficient, secure and technology driven products and services for the banking industry and country's rapidly growing ATM network. EPS is highly adept at end-to-end Automated Teller Machine (ATM) Operations and Outsourcing Services, and offers a holistic range of ATM Managed Services enabling banks to concentrate on core banking functions.
Our vision is to be the leading provider of technology solutions in the Retail Banking and Payments System. With a mission to be a leading provider of banking terminals (ATM) by providing, cost effective banking and transaction related services and solutions; and to establish a dependable electronic payment network. EPS has built a firm reputation on delivering results, reliability and dependability, having successfully deployed over 5,000 ATMs for 26 public, regional rural and co-operative banks across 28 states in India.

Products and Services
ATM Operations and Outsourcing Services and ATM Managed Services
Target
Verticals Banks
Digital Edge/Power of Brand
With a strength of over 180 employees, the team of specialists and professionals driving EPS have pioneered various initiatives in the ATM & Payments industry in India by i.e. first ATM installed in India for HSBC in 1987, first shared ATM network 'Swadhan' by India Switch Company in 1997, first of its kind transaction based ATM business model for Brown Label ATMs in India etc. It is also the first company to deploy live ATM in Mumbai for the project of Ministry of Finance in July 2012. The company also holds the record of deploying 1000 ATM machines in sixty days in India in 2013.
Achievements
Became the 1st Regional Board Member (India Chapter) of the global ATM Industry Association (ATMIA) in 2015
Featured in the cover story 'Enterprise Start-ups to Watch in 2015' of leading B2B magazine for stellar working methodologies and unique innovative practices that can stand the test of time
Won 'ATM Consultant of the Year 2015' award by Consultants Review, India
Recognised as 'India's Most Trusted Brand Awards 2015' was a prestigious award in the category of 'India's Best Electronic Payment Services' by IBC InfoMedia Pvt. Ltd
Awarded as the 'Best ATM Services Provider 2015' at Financial Inclusion & Payment Systems (FIPS) Conference & Awards, India
Won 'Best ATM Managed Services Provider' in the Payment & Cards Awards 2016, India
In January 2016, EPS acquired 100 per cent stake in CISB ATM Services Pvt. Ltd. and in March 2016 was renamed as EPS ATM Services Private Ltd
ORGANISATION


Electronic Payment and Services
Private Ltd (EPS)
Email: info@electronicpay.in
Phone: +91-22-4022-2900
5th Floor, F Wing, Solaris – 1, Saki Vihar
Road, Andheri (East), Mumbai 400 072
Inception: 2011
Number of employees: 180
Management Team: 10

HEAD OFFICE ADDRESS
Same as mentioned above
Contact person for query


Richard Canday


Associate Vice President, Marketing &
Public Relations
Email:

richard@electronicpay.in


Mobile: +91-9167006688