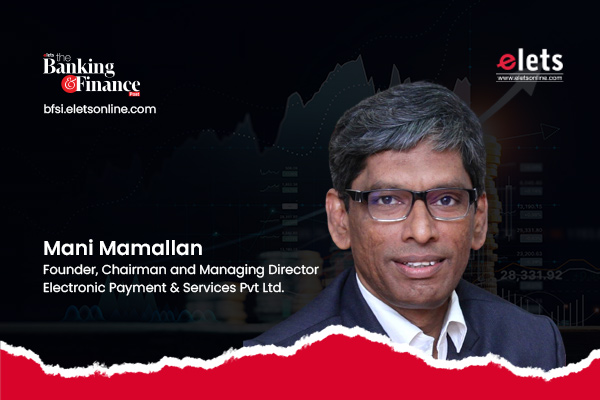 Indian banks and financial institutions are certainly making significant progress and moving up towards gaining a global leadership position in real-time payment systems. Further, there are large signals building up for – utility payments, transportation payments and remittances, which further boost the overall digital payments space. To know more about advancement and expansion of digital payment, Srajan Agarwal of Elets News Network (ENN), talked with Mani Mamallan, CMD of EPS Pvt Ltd.
Electronic Payment and Services (EPS) has emerged as a B2B payments Processing company in the last decade. What is the recent technology that is used to provide the payment solutions?

EPS is one of the market leaders in providing end-to-end ATM outsourcing, ATM managed services and digital payment services. We manage over 11,000+ ATMs of major banks in India.
It is our great fortune to work with some of the top PSBs in this country and manage their ATM services, thus contributing towards their bigger goal of achieving financial inclusion program. Over the last ten years, we have emerged as one of India's leading indigenous payment transaction processing companies with gaining leadership position as an ATM transaction processor. Realising the need for real-time payment solutions for banks, EPS has designed a one-stop ATM remote monitoring solution- EPSTAR- that efficiently manages various critical functions including- incident management, cash mgt, reconciliation mgt and EG pulling mgt. Broadly, with this tool, our partners would be able to access, measure and improvise real-time experience in managing ATM services that resolves:
EPSolve – Incident Management System Real-time Dashboards with the state-of-health of all the ATMs
EPSupply – Cash Management System Faster, Efficient, Secured, Structured Cash Indents Revision
EPSurvey – Physical Verification Real-time verification of ATMs – Site, Cash and Asset Audits.
Besides ATM processing, EPS largely provides solutions across entire value chain of digital payments processing. The solutions include – payment switching, unified merchant management solution, enterprise fraud risk management services, enterprise reconciliation services, payment hub and AI-enabled conversational banking.
With the advancement in industry and changing needs of banking, how is the organisation innovating in its product portfolio? How is innovation in EPS transforming the digital customer experience for major banks through its advanced solutions?
Indian banks and financial institutions are certainly making significant progress and moving up towards gaining a global leadership position in real-time payment systems. Further, there are large signals building up for – utility payments, transportation payments and remittances, which further boost the overall digital payments space. We are an innovation-led company and aiming to strengthen our unique efforts in making equitable technological contributions to the advancement of ecosystem. Our focus is to transform digital customer experience for major banks through advanced artificial intelligence-enabled text and voice-based bot solutions.
We look ahead to address the current challenges of the industry, which are mainly related to frauds and reconciliation. Recently, EPS has developed new platforms which would integrate all the customer facing channels as well as backend systems like CBS, FRM, reconciliation- that would bring efficiency on various fronts like time to market, real-time reconciliation, real-time monitoring, improved transaction speed, less customer disputes. Our digital payments services address the very need of banking space that are:
NEFT/RTGS middleware: Interfaces multiple payment gateways (NEFT, RTGS) with different back-office systems.
Enterprise fraud risk management: Reduces risks across all payment channels due to ever increasing fraud sophistication.
Enterprise reconciliation management: Reduces financial slippages due to deficient reconciliation across all payment channels.
Omni-channel customer engagement: AI & Machine learning solution for video KYC, WhatsApp Banking etc.
EFT switching: Acquire, process, clear and settle credit and debit card payment transactions from ATM, POS, and e-Commerce across any network in real time.
Banking as a service: Building a framework for new-age payment system and banking models.
Being a pioneer in the ATM space in India, what are the challenges you have faced earlier? Please elaborate on the spectrum of opportunities as well.
I had my own struggles. The major challenge was – to raise initial capital, timely completion of project with safe and secure technology advancements, having the right people in the team, and gaining trust factor in the ecosystem. However, I managed funding through withdrawing my life's savings and pawning family's jewellery. We quintessentially did every possible thing to raise funds in 2011 and managed to get a small shop of 6 x 6 ft that got converted into an office. Along with funding, it was a concern for EPS on how to scale up the operations and achieve a license and services model to provide value-added services.
After the first 6-8 months, when the entire setup was ready, and it was completely ready to deploy more ATMs for banks, things started falling in line and then we could deploy more ATMs on the ground and earn more revenue and the trend continued till now. Despite being a start-up, EPS turned out to be one of the top performers of the Ministry of Finance project. Within a year's time after bagging the project in 2011, EPS was the first one to deploy the live ATM among all the vendors and set a record for deploying 1,000 ATM machines in 60 days. The total number of ATMs deployed shoot up by 10 times from 460 in FY 2013 to 4842 ATMs in FY 16. That obviously helped the revenues jumped from Rs 8 cr to Rs 170 cr in three financial years. Today, our portfolio of offerings has expanded beyond ATM Services and includes solutions in the space of digital payments.
Marking the success in the industry, please share your future expansion around the digital payments sphere.
Our customers helped us innovate ATM solution and services to provide seamless, safe and secure transactions and enable UPI, IMPS and QR-code in digital payments, which are transforming the payments space in India. We are building capabilities in emerging areas of regulatory technology and payment platforms for B2B requirements. And our mission is to democratise payment technology knowledge across the ecosystem. We have completed 10 years of proven journey and now we wish to look ahead for global expansion plans, which may demonstrate strategic thinking and planning skills, with specific emphasis on future vision, fundraising, diversification, geographical expansion, organic and inorganic growth, and investment in R&D expenditure.
Adoption of digital techniques and analytics to make better, quicker, and smarter decisions that improve business performance and manage risks are what we would be looking at closely. We have already strengthened our diversification into digital payments and education space, from where we foresee new growth would be coming. We aspire to become a billion-dollar company in the next 10 years. EPS believes conventional banking business models are becoming obsolete due to the accelerated adoption of new-age technologies, changing demographics, and entry of fintech.
Banks, therefore, need to have an agile and open architecture that supports new business models such as banking-as-a-service, banking as a platform, etc. We believe in India's fintech growth story and are gearing up to contribute our best to make India's fintech industry reach $150 billion by 2025. Some reports suggest that India has more than 2100 fintech companies, out of which more than 67 percent have been set up in the last five years which has a cumulative funding of over $ 27.6 billion.
What were the challenges you faced during covid time and how did you cope up to stay afloat in the business?
The Covid-19 has caught us unawares and disrupted business operations. The lockdown and the norms of social distancing is having an impact on ensuring availability of ATM Services. The normal operating procedures are being put to a stress test like never before. EPS realised the tacit pains of our partners and showed its sensitiveness towards addressing the challenges. As an expression of solidarity to our clients and partners, EPS provided its premium solution – remote ATM support- at zero cost. The same mobile application has helped many clients in empowering intelligent allocation and mapping their ATM related calls to field staff basis the requirement in an area.
The EPS team had also set up a specialised support system- task force – to ensure that all employees and their families are safe and secure and taken care of during this pandemic. We believed that the topmost priority was to vaccinate employees plus their families with immediate effect, and in the month of June 2021, we had organised one of the biggest in-house vaccination camps for more than 600 people who took the jab including employees and their families, partners, vendors, and other EPS associates. We ensured that no salary cut for any employee, no delay in salaries for anyone take place when they need the most. No stopping of payments to our vendors and partners. Not a single employee was asked to leave. We had provided work from home arrangements for all employees provided, even a week before the first lockdown was announced. EPS team has truly demonstrated how being together can make us stronger and agile.
Elets The Banking and Finance Post Magazine has carved out a niche for itself in the crowded market with exclusive & unique content. Get in-depth insights on trend-setting innovations & transformation in the BFSI sector. Best offers for Print + Digital issues! Subscribe here➔ www.eletsonline.com/subscription/