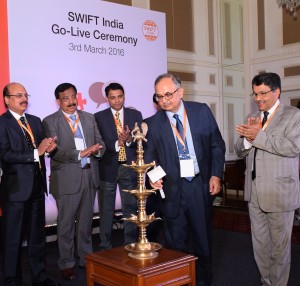 SWIFT India Domestic Services Pvt Ltd ("SWIFT India") celebrated its go-live ceremony. SWIFT India is a joint venture created by SWIFT SCRL (Society for Worldwide Interbank Financial Telecommunication), the global banking cooperative, and nine partner banks to address domestic market needs of the Indian financial services industry.
After receiving formal approval from the Reserve Bank of India in April 2015, the new service has now enabled harmonised exchange of structured financial information between domestic participants in the domestic Indian community, while keeping the same level of pliancy and security that SWIFT offers at a global level.
The nation is on the ride of transitioning to a truly digital economy. The national communications infrastructure is one of the pillars on which the foundation of this growth and innovation is built. To support and strengthen this foundation, SWIFT is laying the financial rails on which the financial sector too will grow and innovate.
M. V. Nair, Chairman of SWIFT India, said: "SWIFT India is the perfect mix of world-class technology and local knowledge. Not only will the new service enable standardised financial information domestically, but it will also allow to connect the world to India."
Chandan Sinha, Executive Director, RBI said: "We strongly believe infrastructures are key to financial inclusion and sustainable growth. The messaging services of SWIFT India will support and strengthen the infrastructure for financial transactions in the country."
"We are excited to see the Reserve Bank of India now live on SWIFT India. Eleven banks already signed up and are live on the SWIFT India network. These are now able to exchange financial information domestically in a fast and secure manner. SWIFT is glad to be one of the early FDI pioneers and make India our home", said Alain Raes, Chief Executive APAC and EMEA, SWIFT