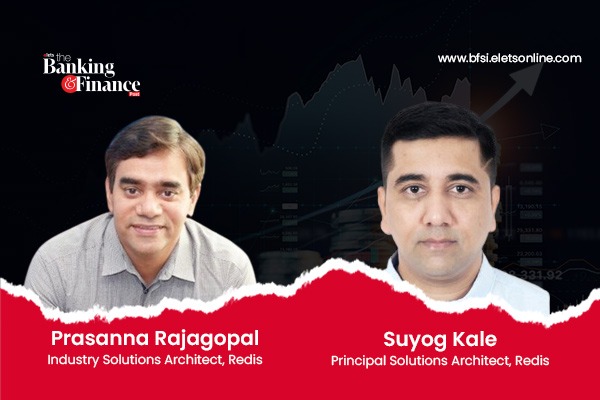 Delivering a tremendous real-time customer experience at scale is a challenge. Legacy applications running on relational databases are too slow to meet today's needs. To know more about popular segments of the BFSI industry, Srajan Agarwal of Elets News Network (ENN), talked with Prasanna Rajagopal, Industry Solutions Architect and Suyog Kale, Principal Solutions Architect, Redis.
1. How do you look at India's growing economy and the future for the BFSI industry?

[Prasanna Rajagopal] India is projected to be the fastest growing economy in the world for the rest of this decade. We have this once-in-a-lifetime opportunity to make a difference in millions of lives and become a leader across multiple industries. Growth requires capital, and India's BFSI industry will play a central role in providing that capital to achieve these world-leading growth rates.
To put things in context, many countries, such as Japan, the U.S, China, and Britain, are facing an aging demographic, reduced consumption, low productivity, and increasing healthcare expenses. India is blessed with favorable demographics that, if put to productive use, can help create wealth and economic growth for years.
2. Why do you think there is a need for real-time data platforms, and what are the primary reasons for its popularity?
[Prasanna Rajagopal] The proliferation of always-on internet connectivity and inexpensive smartphones have revolutionised the way the consumer buys any product or service. Consumers are now used to completing their tasks online from their phones in seconds or minutes. Whether paying their electricity bill or buying a product from Meesho, they want to achieve their goal quickly and entirely online and move on to other vital things in their lives.
Consumers think that an app is not worth their time or money if, for example, the login process takes an extra few seconds or a product search takes too long to complete. Using any app is an emotional experience. When consumers love an app, they will keep coming back and using it often. Many companies in India understand these consumer needs and have put customer experience at the center of their product strategy and innovation. Companies know that they cannot provide a great customer experience without real-time data.
From a company's perspective, when they provide a fast and engaging customer experience, they book revenues faster, can scale their operations to serve more customers in less time, and become more productive and efficient. A great customer experience translates into more profits, loyal customers, and better financial returns. These are the reasons behind the growing importance of real-time data in BFSI.
3. What is Redis and why is it popular in the BFSI sector, which segments of the BFSI sector uses Redis?
[Prasanna Rajagopal] Redis is a real-time data platform popular globally across financial services, retail, gaming, and healthcare. We have customers in every segment of the BFSI industry and every major global market. Customers pick Redis because our data platform offers fast data access (often measured in a few milliseconds, compared to hundreds of milliseconds for a relational database) and can scale to serve millions of customers. Speed and scale are only helpful if a platform is highly available. Redis gives you five-nine availability, and data durability features important for BFSI.
4. What are common use cases for Redis among your BFSI customers?
[Suyog Kale] India needs the speed and scalability of Redis. Indian BFSI companies operate at a scale matched only by a couple of other countries. Our customers use Redis to break down silos of data and modernise their applications. Redis is used to speed up app logins, make real-time payments, help prevent fraud, and make stock trading fast and easy. Mobile & Internet banking, UPI payments, Transaction history, API caching, building secondary search indexes on relational data, session data, user portfolio, caching masters, and others are common use cases in banks for Redis.
5. What are the common challenges your customers face with their existing data platforms?
[Suyog Kale] Delivering a tremendous real-time customer experience at scale is a challenge. Legacy applications running on relational databases are too slow to meet today's needs. Besides, companies are looking to standardise on a best-of- breed technology for each component in their application stack. Today's apps need caching, JSON, search, and time series support with the ability to deploy data across multiple data centers. Companies do not want to use various technologies to meet these needs. They wish to rationalise and simplify their technology stack.
6. What are key requirements from BFSI application owners when they evaluate Redis?
[Suyog Kale] Banks and financial institutions have some critical requirements for their data platform. A data platform has to deliver real-time response and support multi-model operations seamlessly. Modern apps thrive on streaming data, and a data platform has to support that.
A data platform has to scale quickly to accommodate massive spikes in traffic. To meet data redundancy and high availability requirements, a bank should efficiently distribute the database geographically in an active-active or active-passive deployment. Finally, financial companies want a flexible deployment model. The data platform must support on-premise, public, hybrid, and multi-cloud deployment.
7. How does Redis solve the need for a real-time data platform?
[Suyog Kale] BFSI organisations choose Redis Enterprise for its performance (millisecond response time). We provide our customers with best practices and design guidelines to get the best performance out of Redis Enterprise. In most cases, we have seen customers gain an order of magnitude improvement in their app's performance.
For example, when a relational database took a few seconds to deliver the results of a query, the Redis Enterprise performed the query in milliseconds while executing a few thousand queries per second simultaneously. Redis supports multiple data structures like simple key-value, streaming, JSON store, search indexes, and even geospatial data.
This multi-model support enables our customers to solve different use cases with the same data platform. Finally, Redis Enterprise is a cloud-agnostic solution that you can deploy anywhere in VMs or Containers, in private or public clouds. Hence, there are no migration efforts when you switch from one cloud to another. Other important aspects like security, 24/7 support, ease of integration, and the broad availability of Redis skillset in the developer community help customers to go into production confidently.
For more details about Redis in financial services, Click here.

Elets The Banking and Finance Post Magazine has carved out a niche for itself in the crowded market with exclusive & unique content. Get in-depth insights on trend-setting innovations & transformation in the BFSI sector. Best offers for Print + Digital issues! Subscribe here➔ www.eletsonline.com/subscription/