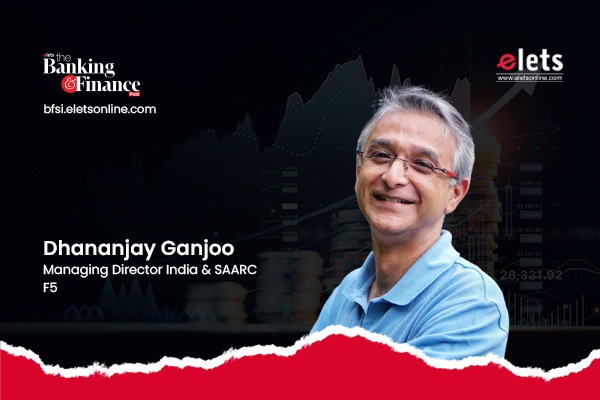 Technology adoption across industries is witnessing accelerated growth in the last few years and the BFSI sector, that has always been a frontrunner in terms of tech-deployment, made exceptional use of technologies such as cloud to ensure cost efficiency and modernise their systems, and more. Rashi Aditi Ghosh of Elets News Network (ENN) recently interacted with Dhananjay Ganjoo, Managing Director India & SAARC, F5 to understand how the multi-cloud application services and security company is helping BFSI organsations in minimising cost by optimising their public and private cloud services.
1. How important is the deployment of multi-cloud strategies for financial services organisations today?

In today's evolving landscape, a holistic multi cloud strategy is important for organisations of all sizes and verticals, including financial services organisations. According to the State of Application Strategy Report- Financial Services Edition for the year 2022, 69% of financial services organisations in Asia Pacific region have deployed multi-cloud strategies.
In fact, financial organisations in India are increasingly adopting hybrid cloud, public cloud, and multi-cloud strategies to meet the demands of competition, compliance, and modernisation. Implementing multi-cloud strategies allows businesses to have the flexibility in deciding which parts of an application should reside in an existing data center versus in the public cloud.Cost-effectiveness is another benefit of implementing a multi-cloud strategy, as it enables financial organisations to minimise cost by optimising their public and private cloud services.
It additionally helps them to comply with government-mandated compliances by establishing a common compliance framework across multiple clouds. The inclusion of public cloud services in a multi-cloud strategy provides financial services organisations with high performance and reliability without the requirement of systems being built from scratch.
Therefore, it is of utmost importance for financial organisations to implement multi-cloud strategies to move at pace with the ever-technologically advancing world, to meet the evolving customer demands.
2. What major challenges are faced by FIs in onboarding the multi-cloud strategies?
There are multiple challenges multi-cloud brings along with its benefits, one of the major challenges for any organisation deploying multi-cloud strategies is security. Cyberattacks nowadays are indirect and often target APIs through third parties such as FinTech data aggregators. For the majority of financial services organisations, it is a challenge to apply consistent security policies across all company applications and they are finding solutions while still pursuing their multi-cloud goals. Such security challenges in deploying multi-cloud strategies have led many financial services organisations to implement API security solutions. The same survey states that60% of the BFSI organisations in Asia Pacific region have already implemented API security solutions or are planning to do so.
Another area of concern is how to balance security and performance. It was also alarming to learn from the State of Application Strategy Report – Financial Services Edition that the majority ofAPAC respondents would prioritise performance over security; 70% of financial services organisations in the Asia Pacific would trade security for better performance.
Therefore, it is important for financial organisations to select the right cloud partner, havea clear strategy to build a cohesive security architecture, mitigate risks, increase visibility, simplify governance, and harness the full power of the multi-cloud to achieve their business goals.
3. Is the sudden rise in cyber frauds, especially post pandemic, connected to multi-cloud strategy?
The adoption of multi-cloud models is becoming a common phenomenon across organisations, owing to the increased flexibility and choice of offerings from different cloud services. However, managing these different cloud environments increases the frequency of cyber-attacks, making the organisation prone to risk governance and security issues. Cybercriminals today are adopting innovative approaches to breaches and attacks, and this is making business leaders apprehensive about hosting sensitive data and critical applications in a distributed cloud environment. While the pandemic has rapidly driven multi-cloud adoption, the rise in cybercrimes cannot be attributed entirely to multi-cloud or any technological advancement.
According to Verizon Business 2022 Data Breach Investigations Report (2022 DBIR), there is a 13% increase in ransomware attacks globally.The report showed that the emergence of cryptocurrency, technology like ransomware-as-a-service, andthe delay in implementation of strong technological infrastructure has left businesses vulnerable to cyber-attacks.
Hence, I will say that though businesses adopting multi-cloud strategies face challenges regarding applying consistent security policies across all company applications, the sudden rise in cyber-crimes cannot be solely attributed to multi-cloud adoption.
4. What are your views on the rise in app repatriation from the public-cloud?
Application repatriation figures have jumped enormously across various industries, including financial services. Through our survey on the State of ApplicationStrategy Report – Financial Services Edition for the year 2022, we have seen that 38% of the financial services organisations in Asia Pacific region had recently repatriated apps or are planning to do so.
There are three factors which I see playing an imperative role in more financial services bringing their apps home, the first reason being cost effectiveness as the promised cost efficiencies of the public cloud may have been harder to capture than expected. The second factor would be the need to control data, applications, app security and delivery technologies more effectively in public cloud. Finally,the third trigger is the adoption of SRE practices by organisations to bring cloud-like agility to their on-premises environments without facing rising costs from third-party cloud providers.
No matter what the trigger is for the growth in repatriation of application, it is an indication of rationalisation and maturation of cloud strategies by financial services organisations.
5. How can FIs improve customer experience through deployment at the edge and AI assistance?
Applications are continuously becoming the lifeline for businesses, as it is a major touchpoint for consumers in today's day and age. Organisations across all sectors, especially financial services, require the power of edge and AI to deliver positive customer experience. Financial decision makers plan to deploy workloads that support the digital experience, such as mobile apps and web front ends, at the edge.As per the same survey, 81% financial services in Asia Pacific region plan to use the edge and 94%have planned to use AI assistance or are already doing so to improve their customer experience.
Usage of AI assistance and deploying at the edge will help financial service organisations to improve customer experience in many ways. Implementing edge computing and AI will improve operational efficiency by generating more accurate data/insights, this way financial organisations can detect the need of the customers and provide services accordingly. Edge computing also improves app performance which leads to enhanced employee satisfaction. Furthermore, deployment at the edge helps in reducing cost by optimising workload distribution. Financial organisations can use AI-powered analytics & security promises to protect their customers at speed from the next generation attacks by cybercriminals.
6. Why is it important to strengthen the Zero Trust Security model for combating threats in today's world?
Financial services organisations are in the crosshairs of attackers. With customers using applications from various locations and devices, it is imperative to securely manage access to these applications. Therefore, organisations must adopt the 'Never trust, always verify, continuously monitor' approach and implement 'Zero Trust Model' to protect the apps from cyber attackers. Zero Trust model is a security architecture built on the core principle of verifying every user and device to ensure that the right people have access to appropriate applications or information at the right time. With the application architecture customised as per the Zero Trust Model, it can help enhance user productivity and increase the efficiency of business processes.

Elets The Banking and Finance Post Magazine has carved out a niche for itself in the crowded market with exclusive & unique content. Get in-depth insights on trend-setting innovations & transformation in the BFSI sector. Best offers for Print + Digital issues! Subscribe here➔ www.eletsonline.com/subscription/