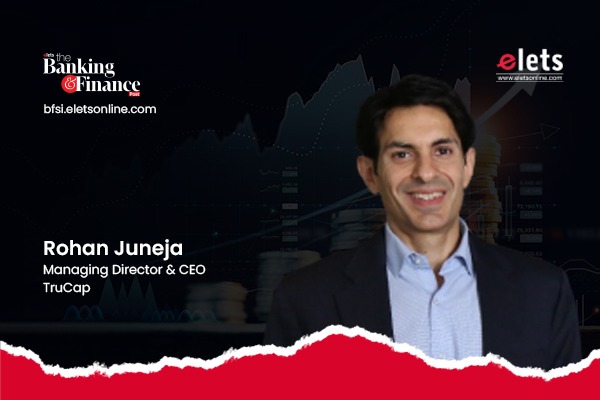 The next wave of growth will be driven by multitudes of micro-entrepreneurs who are building businesses and generating livelihood opportunities within thier sphere of influnence amid multiple roadblocks and information asymmetry. To know more about the co- lending partnerships in MSMEs, Rohan Juneja, Managing Director & Chief Executive Officer, TruCap, had an interaction with Shruti Jain of Elets News Network (ENN).
TRU is on a journey to ensure access to a Rordable credit for small entrepreneurs and build social capital for a robust credit ecosystem to thrive. The evolution of Dhanvarsha Finvest Limited to TRU is aligned with unification of its oRerings on a single platform by synchronising digital assets and offiine branch network to cater to evolving needs of aspirational but underserved MSMEs. TRU will be oRering gold finance to small businesses and retail customers through its offiine branch network by retaining the brand name Dhanvarsha; it will be distributing unsecured credit products under the aegis of TRU to fulfil the capital requirements of small businesses. In our transition to TRU, we appreciate the need to build and empower participants in a trust-based economy to unlock the latent potential of underserved markets. Our learnings are crystallised in assigning the values that TRU stands for: trust, reliability, and user friendliness in building credit solutions for the unserved and underserved needs of small businesses. We are commi ed to the journey of transformation aimed towards making capital run longer and stronger to fuel the aspirations of India's emerging entrepreneurs, and serve the purpose of nation-building through lending.

What major challenges did you come across in serving the MSME segment post-pandemic outbreak? How did this impact your expansion plans?
Traditionally, MSMEs were too small and diverse to be viably catered by traditional financial institutions. With extensive growth, there is a visible gap in access to formal credit at competitive terms. MSMEs have challenges in showing vintage or income and expenses since they were largely a cash-based, and underwriting is managed through an assessed income model. Moreover, in this segment the loan ticket size is not large, sourcing is difficult and need for separate collection strategy forces the need for a special skill set to serve MSMEs.
Also Read | MSMEs as a catalyst for economic development
From a balance sheet point of view, this does not move the needle for banks and traditionally large NBFCs. Hence, right from sourcing, servicing, and collecting, serving the MSMEs requires grassroots-level processes, skills, and infrastructure to do a meaningfully profitable business while ensuring that aRordable credit is accessible. The pandemic was a critical inEection point for us to invest strategically and build infrastructure to serve this market efficiently.
The offiine branch network of our organisation is concentrated in and around Northern and Western India's MSME clusters, providing us with a ready market to oRer our lending services. As the business grows and we discover opportunities to expand into other clusters, our branch network will follow.
To strengthen financial inclusion and last mile delivery of credit, TRU has entered into a co-lending arrangement with the Central Bank of India, the partnership was announced in Aug'21. The co-lending model is now live across all branches in Maharashtra, Delhi NCR, and Madhya Pradesh. The company is also in talks with three other large institutions for similar arrangements. Going forward, we will continue this strategy while thoughtfully refining it as per business needs.
How do you see the concept of collaboration when it comes to technology onboarding for NBFCs?
There is an African Proverb which is famous and goes like, 'If you want to go fast, go alone. If you want to go far, go together.' TRU is driven by this philosophy of collaboration to build a world-class financial institution of repute. We want to build a sustainable business model that oRers financial and knowledge support to other sustainably run businesses in semi-urban and rural parts of this country by collaborating with multiple players in the ecosystem to deliver solutions to the last unserved customer. It is an ambitious mission for which we are commi ed to partnering with like-minded institutions and service providers.
Our grassroots level intelligence and multiple interactions in the industry confirms the hypothesis that the next wave of growth will be largely driven by multitudes of micro-entrepreneurs who are building profitable businesses and generating livelihood opportunities within their communities. These businesses operate with scores of accessibility issues and information asymmetry that stunts their capability to scale eRectively and build efficiencies into the delivery models. We have witnessed that technology oRers a level playing field to our micro-entrepreneurs. It empowers and enables our customers to address inefficiencies and solve their lingering issues to improve productivity at nominal cost.
There is a need to build a holistic eco-system that fosters ease of access and use, without compromising the aRordability of solutions oRered. Technology has surely transformed the onboarding experience for customers and NBFCs. Innovations like UPI have put India at the forefront of financial innovation to bring large masses into the ambit of financial inclusion.
What is your top growth strategy to sustain in the future?
Our strategy is driven by three interlinked pillars that guide us towards profitable growth.
Financial inclusion
We aim to achieve last-mile financial inclusion through deployment of technology and capital to power the growth of MSMEs. Our products are aligned to consumer preferences, with robust delivery systems in place to ensure quick turnaround solutions for the thin-file customers and small businesses. Furthermore, the company prides itself on the highest standards of corporate governance and transparency, which enables our borrowers to access financial products in a meaningful manner.
Capital eAciency
Our lending strategy is centered on capital preservation and collaboration via the Lending-as-a-Service (L-a-a-S) model. We signed a substantial co-lending arrangement with the Central Bank of India to disburse gold-backed MSME loans. We are in the process of building similar relationships with other participants in the ecosystem. We are confident in our aim to make capital more efficient in the service of business owners.
Also Read | MSMEs as a catalyst for economic development
Tech-enabled 'borrower-first' lending institution
To this, we have adopted agile technology solutions that can address challenges of a dynamic business environment. We have built our progressive, user-centric omnichannel customer acquisition stack, including our sourcing and distribution assets such as Dhansetu and Dhanvarsha branch network. Our acquisition channels are complemented by customised products suites built to meet the needs of micro-entrepreneurs in underserved and under-served markets.
Being an MD & CEO, how are you bringing positive social impact by building lives & livelihoods?
We have empowered more than 40,000 borrowers who were new to credit, majority of these comprising women-led small businesses with no formal access to capital. Overlooked by traditional financial institutions owing to the absence of credit history in a classic chicken-egg conundrum, this segment has historically been at the mercy of loan sharks or unorganised lenders who put them deeper into the debt trap. Similarly, we are building a significant credit distribution network to enable formal credit access in Tier 2 and 3 markets. With sustained eRorts, we are hopeful in contributing towards building be er opportunities for the people we serve and inspire them to realize their aspirations.
Bringing social impact by building lives and livelihoods is a multi-dimensional initiative requiring eRorts spanning years to fruition. TRU is leading this positive journey to empower small businesses by making credit accessible and aRordable to fuel their expansion. We acknowledge that much more needs to be done to unlock the full potential of the MSME segment. Micro-entrepreneurs have been utilizing capital to transform MSME clusters into employment hubs, and fulfil sustainable development goals aimed to achieve growth and poverty alleviation.

Elets The Banking and Finance Post Magazine has carved out a niche for itself in the crowded market with exclusive & unique content. Get in-depth insights on trend-setting innovations & transformation in the BFSI sector. Best offers for Print + Digital issues! Subscribe here➔ www.eletsonline.com/subscription/