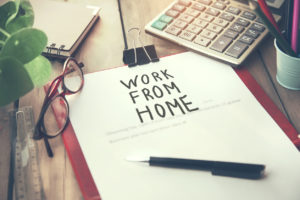 The outbreak of Covid-19 has brought several significant changes in the way business operations are carried out across the globe. Companies are ensuring the safety of their employees by updating their work policy in sync with the pandemic and adhering to social distancing as per centre's guidelines. The banking and financial sector employees are at the forefront of this challenge and making sure that all financial requirements for their customers are met, even if they have to impart it from the bank branches physically. Keeping this in mind, the sector is trying to put in place several employee-friendly policies and Work From Home is amongst the new modes of operations leveraging the digital tools that banks are implementing. On the basis of several expert opinions from around the sector, Rashi Aditi Ghosh of Elets News Network (ENN) unfold the reality of WFH and find out whether it's the new normal for the financial industry.
Work From Home-Gaining Acceptance Across BFSI
As the deadly infections virus is spreading faster, in March 2020, the Reserve Bank permitted majority of its staff across the country to work from home while ensuring unrestricted business continuity.

Likewise, India's largest lender the State Bank of India issued an office order, as per which every staff member at its corporate centre and its establishments were directed to work from office on alternate days. What this means is that on any day, 50 percent of the employees in the corporate centre and its establishments will be attending the office, while the remaining will work from home. This arrangement was asked to be reversed on the next working day. Those working from home were asked to be available on telephone and email at all times and be available in case of exigency.
Similarly, the Central Bank of India also decided to implement work from home for its staff at central office and zonal administrative offices/training colleges/ centres. They too were asked to work on alternative days. General Managers/ vertical heads were asked to divide the work schedule of the staff into two groups, preferably in equal numbers.
In May this year, private sector lender Axis Bank announced that it will make work-from-home (WFH) an important part of its work culture. As part of its post-lockdown strategy, the lender has decided that its employees will continue to work from home for 2 -3 days a week.
In its exclusive report, Live Mint reported that around 12,000 Axis Bank employees, mostly in non-customer-facing roles, are working from large offices across India. The bank said the WFH model can be implemented for them. As a pilot, it has implemented the model for two departments—compliance and HR. This will be expanded to other departments such as risk and corporate credit and, eventually, rolled out for all these employees over the next six weeks.
Several other banks namely ICICI Bank, Canara Bank, and several others have also adopted this model of work.
From Work From Home to Work From Anywhere
Taking a step ahead and initiating something innovative, SBI recently announced an up-gradation of its existing work-from-home policy to work-from-anywhere.
This development is made in sync with the lender's plans to face and adjust with the new challenges posed by Novel Coronavirus. Underlining the current crisis, the bank would be focusing on revisiting risk assessment and business procedures in addition to the rapid adoption of digital technology mentioned the lender in its annual report.
How Feasible is the Model-Experts' Take on the New Normal
To understand the relevance and feasibility of the model with regards to the BFSI sector, Elets News Network spoke to several experts who are currently working with financial institutions to find out their take on the new trend.
Neeraj Chandra, Executive Vice President & Head, Operations & Technology, Abu Dhabi Commercial Bank
Enabling Employees to do most of the activities safely from home has been a big challenge, not only for security reasons but due to logistic challenges as well. Ensuring that employees have a safe computer at home with stable Internet is important.
Discouraging entry of Customers into branches have also been a challenge. Even when customers visit the Branches, except for critical activities like cash withdrawal or KYC updates, they are encouraged to use Drop boxes.
Bank Branches, which used to be buzzing with people and customers, are now empty.
Rostering of Employees to ensure only the bare minimum attend office on a rotational basis is a norm now. Running the Call centres and Back office has been possible through technology, though it is also fraught with increased risk as people work from home. Access to the secured networks had to be enabled from home, thereby increasing the End points significantly.
Shiv Kumar Bhasin, Chief Technology and Operations Officer, NSE India Pvt Ltd.
Work From Home was already into practice in western countries and up gradation in the way it is implemented was happening with the change in technology every five year. Homegrown countries in India, however, are now exploring this medium as a new phenomenon. Earlier, there was not much focus on building any infrastructure in support of this in the Indian companies.
COVID outbreak has resulted in an awakening call. In my organisation also, just when the lockdown was implemented, we could send 50 percent of our employees to work from home/ remote model and by the end of March 2020, cent percent of all employees from all the services have been sent to work from home model. So, there has been major learning with regards to future preparedness, for financial institutions.
As it is not just about sending people to Work from home just by giving them laptops but it is also significant to make them tech-savvy. So, culture change is one of the major changes while implementing work from home.  Keeping this in mind, I have started organising a lot of trainings in my organisation in a bid to make people more effective and efficient.
Zulkernain Kanjariwala, Head-IT, Doha Bank 
 I would say it is not a New Normal for the IT guys but yes, it is New Normal for any other employee in the organisation. For technology people, it is very normal to operate from home in case of any fire in the application or infrastructure. WFH is nothing but a buzz word that came in light due to Covid-19 but it has many implications and positives.
Ninad Karpe, Partner at 100X.VC
Work from Home is now a reality. During this Pandemic period, we are witnessing a lot of changes in the consumption pattern and the number one priority now is health and hygiene.
If we talk about opportunities for the Fintech sector, we will have to analyse whether the operational model is based on Home delivery, where you can serve the consumer at their home and they don't have to move anywhere to look for your services. You will have to change your delivery model.
Shivkumar Pandey, Chief Information Security Officer, BSE
Unlike banks, BSE is a data-centric company where everything is digitised. However, with the sudden rise in the demand of Work From Home model amid the outbreak of Covid-19 the need for secured VPN with better connectivity came to the spotlight and gradually with the falling speed due to inflated the demand of VPN and increasing usage of non-secured personal devices made security assurance, a problem. It is also significant from our end to spread awareness pertaining to COVID, training employees on the correct use of devices in adherence to safety guidelines.
As a matter of fact, this situation has lead to a paradigm shift. This will lead to a lot of moderations in the field of internet and extranet security. Customer servicing will also see a sea change where services will be offered irrespective of locations and time. Eventually, the regulatory norms with respect to cybersecurity guidelines will also change
Vinod Kumar, Head-IT and CISO, Fino Payments Bank
Covid-19 outbreak brought several changes which eventually caused a lot of challenges. While Work From Home emerged as a promising option distribution of responsibilities evenly was a problem. On one hand, the rising demand for VPN caused connectivity issues on the other hand giving responsibilities to people adhering to the regulatory guidelines was a matter of concern. Every role is not suitable for Work From Home and everyone is not staying at their homes, some stay at shared dormitories and hostels where lack of proper space and internet options are limited. Regulators expected us to begin our operations swiftly and continue working without considering the challenges. With all these changes ensuring security was also a tedious task.
Jaya Vaidhyanathan, CEO, BCT Digital, Bahwan CyberTek group 
 As we grapple with the pandemic, the global economy is changing, perhaps permanently, with business models evolving rapidly to the new norm including things such as remote working with its implications on commercial real estate and auto sectors, businesses rushing to secure supply chain linkages through diversification, the Middle East investing heavily in sectors outside oil, including in India's Jio, global leaders right from those in the US to the developing countries talking protectionism, even de-globalization!
Sunil Khosla, Head – Digital Business, India Transact Technologies Ltd.
Work from home is an ideal solution when there is a lockdown. With a work from home infrastructure in place, the nation's economy is not adversely affected, and citizens' health is not compromised. Learning from the present situation, Indian organisations will be ready for such eventualities in the future. This will lead to the creation of a better infrastructure which will, in turn, make working from home more manageable for many more people in the near future.
Soumen Mukherjee, Marketing and Communication Head, Discreet Solutions Pvt Ltd.
Working from home as a normal business practice needs a great deal more than just making it. In order to be more successful, a company must be able to expand almost all the facilities it provides in the workplace to the employee's home. Digital server and device connectivity could only be the first step. The company needs to organize its working in such a way that an individual is easily open to all colleagues.
Conclusion:
While opinion on the new trend-Work From Home is varied, experts do believe that for the time being this is one of the best-suited options to go with. On one hand, cyber threats are rising and safe internet becomes the demand of the hour to run operations from home, social distancing and keeping the momentum at pace, despite the crisis is something that is emerging as the benefits of the model. The model is also helping the sector to digitise its services at a faster pace as compared to earlier.
The Banking & Finance Post is an initiative of Elets Technomedia Pvt Ltd, existing since 2003.
Now, Elets' YouTube channel, a treasure of premier innovation-oriented knowledge-conferences and awards, is also active. To Subscribe Free, Click Here.
Get a chance to meet the Who's who of the NBFCs and Insurance industry. Join Us for Upcoming Events and explore business opportunities. Like us on Facebook, connect with us on LinkedIn and follow us on Twitter, Instagram & Pinterest.