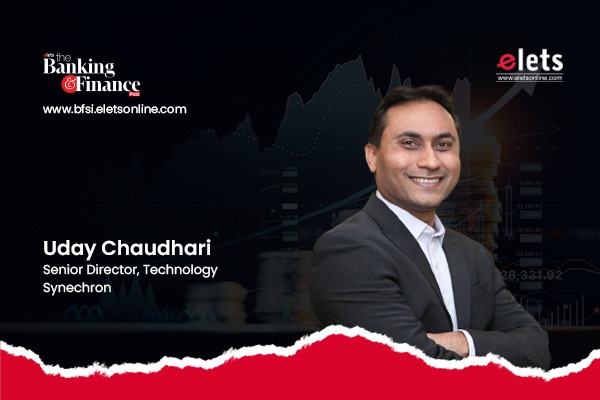 Digital payments segment is becoming a significant part of the new normal across, and Indian market is no exceptional. In sync with the dynamically transforming digital market, India's buy-now-pay-later (BNPL) industry is booming and likely  to grow more than ten-fold within four years. As quoted by Redseer India's BNPL market will rise to $45-50 billion by 2026 from $3-3.5 billion now. The research firm also estimates that the number of BNPL users in the country may increase to 80-100 million customers by then, from 10-15 million at present. To understand the sudden rise in popularity of digital payments and specifically BNPL, Rashi Aditi Ghosh of Elets News Network (ENN) interacted with Uday Chaudhari, Senior Director, Technology – Synechron.
1. What factors have popularized Buy Now Pay Later globally in the past couple of years?

Digital payments are quickly becoming the norm in the present day, and the pandemic has only accelerated their adoption. The complete digitisation of our financial infrastructure lets financial institutions offer a wider variety of services, with BNPL being one of the most popular. BNPL is making credit more accessible to the public, at a time when people are looking for additional tools to secure personal financial stability. BNPL's popularity stems from a variety of factors, most notably how it 'democratises credit'. It is widely used by the Millennial and Gen Z age groups as BNPL offers easy access to credit for young adults who are just beginning to develop their credit rating, without the upfront joining costs associated with traditional credit cards. In the aftermath of the pandemic, it also allows them to increase their purchasing power through interest-free EMI payments with a lower interest rate than most credit cards. This makes BNPL the preferred choice for people without formal credit history or with a lower risk appetite.
2. How is it making credit more accessible?
Historically, credit cards have been the only way for consumers to access credit for smaller scale transactions, and frequently involve onboarding costs or an annual fee. BNPL offers a more accessible alternative that is focused specifically on small to medium scale transactions, with more relaxed lending criteria and no upfront costs. It also does away with the income threshold eligibility that credit cards often require, letting a wider portion of the population access credit services. Further, BNPL services offer an interest free repayment period, as well as interest rates that are 5-10% lower than those charged by credit cards. Together, these make BNPL services a lower risk financial instrument, and thus a lucrative credit option for a wider population.
Also Read: In 2022, we are leveraging technology to create exponential growth
3. How BNPL will impact the existing financial ecosystem down the line?
BNPL is a multiplier of purchasing power. In the post-Covid era, we are seeing a surge in spending as the economy recovers and people become more comfortable with spending more. Easy access to credit channels via BNPL is likely to fuel this growth. As an increasing number of BNPL options become available, traditional banks and financial institutions too are looking into offering their own BNPL credit services to remain competitive. Existing research suggests that BNPL will become the fastest growing online payment method, rising from a mere 3% share in 2020 to 9% in 2024. The long term impact of this will likely influence the credit industry as a whole, making access to credit easier through multiple channels. At present, BNPL services are available only through select vendors, but with wider acceptance we should see the availability of BNPL growing across sectors.
4. What are technology challenges traditional banks face when it comes to launching their own BNPL solutions?
Since the rise of digital payments, banks have been playing catchup to new disruptive technologies that enable instant transactions and global access. For legacy banks to modernise and offer their own versions of BNPL services would require an overhaul of the legacy structures that were built to focus on personal banking. It would incur significant investment to develop or acquire a powerful software platform to ensure on-the-go credit verification and disbursement, a process that has previously required manual involvement.
Data security and protection become primary concerns in this regard, as the BNPL network requires robust digital infrastructure to facilitate instant payments, and strong backend support to roll out on scale. Even if successful, the BNPL platform further risks fragmenting the credit market share held by the bank and eventually making portions of the business redundant. As such, the scale of traditional banks and their existing credit functions is what makes it difficult for them to pivot to the BNPL model in the short term.
The PayTech Accelerator Program by Synechron is aimed at helping banks seize new opportunities across the payments landscape and solve evolving technology challenges. This program offers a suite of cutting-edge scalable solutions that are design led, data driven, and technology enabled, one of which is aimed at enabling banks to build and increase their share of the Buy Now Pay Later lending market.
5. Can you explain the tech implementations in BNPL solutions that will help banks and financial institutions to launch and market these systems in reduced time?
The adoption of the BNPL system can be accelerated for banks and financial institutions by strengthening the customer onboarding process and strengthening existing relationships with major merchants. With existing BNPL offerings being limited to specific merchants, offering wider availability is the most effective solution to ensure greater adoption. Further, acquiring credit engines that can use the bank's existing legacy systems and integrate customer data as part of its credit decision can leverage the banks' larger customer base to offer greater access to BNPL services. While developing the complete system for banks can be a daunting task, acquiring external engines that integrate and build on existing systems can offer a major advantage in the deployment of their own BNPL systems. Synechron's PayTech accelerator offers a complete solution framework with plug-ins that will help onboarding more customers in less time. The plug-in at the payment checkout will redirect control to the bank's BNPL platform to take credit decisions for existing/new customers. Thus, reducing time for banks to connect with customers.
6. What innovations can we foresee in the BNPL space over the next two years?
Over the next two years, we can expect to see wider acceptance of BNPL services across merchants and institutions as both financial institutions and larger merchants offer their own services to build deeper customer loyalty. Lucrative benefits for customer acquisition are likely to be commonplace, such as partner offers, loyalty rewards, discounts, and greater ease of access.
Also Read: Year 2022 will be known as the year of Fintech Revolution: Vineet Tyagi, Global CTO, Biz2X
As the market grows, we can also expect to see BNPL services be customised for both B2C and B2B interactions, letting suppliers and merchants leverage each other's strengths to build partnerships while keeping overhead costs low. Hence, our solution framework can be configured to banks, merchants to suppliers, as well as merchants to customers.
Alongside the front end promotions, BNPL lenders will have to institute rapid and effective means of credit evaluation, upgrade back-end loan-servicing, and integrate large scale regulatory structures to enable large scale BNPL services. Along with this, we can expect to see newer developments in digital security and consumer data protection as providers strengthen their BNPL platforms to build consumer trust, as well as integrate the impact of customer credit scores as part of the credit evaluation.
7. Your vision for next financial year.
The next financial year will the year of BNPL in the banking sector. Over the next year, we expect to see all major financial institutions rolling out their BNPL offerings and taking the platform to the next level. Acquisitions of well-known BNPL start-ups have already begun and will likely continue as the market grows. We can expect to see more applications of BNPL between businesses as well, letting it grow within the B2B space and lowering dependence on external credit for small businesses. The wider adoption of BNPL is already occurring, and it should likely become a staple part of the payments ecosystem by the end of next year.


Elets The Banking and Finance Post Magazine has carved out a niche for itself in the crowded market with exclusive & unique content. Get in-depth insights on trend-setting innovations & transformation in the BFSI sector. Best offers for Print + Digital issues! Subscribe here➔ www.eletsonline.com/subscription/