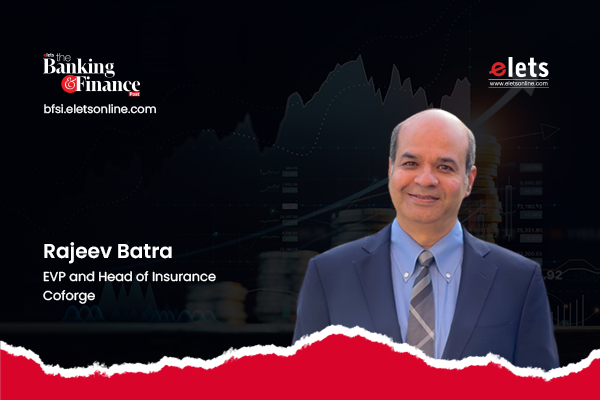 Gen AI is indeed reshaping customer expectations, and Coforge is ahead of the curve in addressing this transformation, shared Rajeev Batra, EVP and Head of Insurance, Coforge, in an exclusive interaction with Srajan Agarwal of Elets News Network (ENN).
The insurance sector is highly sensitive to macroeconomic factors. Can you elaborate on the recent impact of global economic slowdown and uncertainties on the insurance industry, and how Coforge is navigating through these challenges?
Considering recent global economic uncertainties, the insurance industry has faced both challenges and opportunities. These include reduced customer and business spending, leading to slower premium growth, decrease in demand for L&A since these are discretionary, decreased profitability and investment losses, challenges in meeting customer obligations, increased claims for P&C insurers due to business interruption, underwriting risks due to fraudulent activities, complexities in risk assessment, resulting in potential under or overpricing and shifts in customer behavior.
To address these evolving dynamics, insurance companies are realigning their investment strategies, refining underwriting practices, adjusting pricing models, and focusing on their core products and markets where they have a competitive advantage to reduce costs. Some insurers are focusing on emerging markets for new revenue streams. Collaborative efforts with regulators and reinsurers have become pivotal in managing risk effectively. Furthermore, digitisation and advanced analytics have gained prominence as insurers seek to bolster their risk assessment capabilities and optimise operational efficiencies. The software outsourcing industry is directly impacted since Insurers are reducing costs by streamlining their operations.
At Coforge, we've successfully navigated these challenges through a focus on innovation and adaptability driving excellence across the insurance value chain. We are focused on addressing our client's business challenges through a seven-pronged approach
a) Platform Partnerships: that enhance our ability to deliver the latest technologies, empowering insurers to stay ahead of the curve. We have strategically forged key partnerships with industry-leading platforms like Duck Creek, Appian, Pega, and Kong. These partnerships are not just collaborations; they represent our commitment to providing our clients with the most cutting-edge solutions and capabilities.
b) API Integrations: Gone are the days of monolithic transformations. Instead, we seize the opportunity to connect the front office, middle office, and back office seamlessly through API integrations. We've forged strategic partnerships with industry leaders like Appian and Kong, ensuring our clients have access to cutting-edge solutions that help reduce the cost of operations.
c) Upfront Digitisation: We've always recognised the critical role of digitisation upfront, even before policy issuance. This unwavering focus on digital transformation ensures that our clients provide a seamless and efficient experience to policyholders.
d) Omni-Channel Experience: Delivering exceptional customer service is at the heart of what we do. Our expertise in contact center optimisation and creating an omnichannel experience has earned us the trust and respect of our clients.
e) Underwriting Effectiveness: In the front and middle offices, we're driving underwriting effectiveness. With the incorporation of advanced AI and ML, underwriters now have time to focus on front-end selling, ultimately helping them generate more business.
f) Claims System Optimisation: In the back office, we're experts in optimising claims systems. We understand the pivotal role this plays in enhancing the overall efficiency of insurance operations.
g) Vendor Consolidation: We understand the paramount importance of vendor consolidation to reduce the cost of operations. By streamlining vendor relationships, we help our clients optimise costs and reinvest those savings into transformation initiatives. Our expertise in creating self-funded consolidation models ensures efficient resource management.
We have developed our IPs and have applied our product mindset to numerous transformation initiatives. Notably, Advantage Go, our innovative commercial insurance and re-insurance product, currently supports 25-30 per cent of the Lloyds insurance market helping them productise and monetise their solutions.
In today's competitive landscape, cost-cutting has become a focal point for many insurance companies. Could you shed light on the strategies Coforge is adopting to optimise costs and how these efforts are influencing the company's growth and profitability?
Coforge is at the forefront of cost optimisation strategies. Our portfolio consists of a mature set of accelerators and frameworks including Cost Gym, Process Gym, Domain Driven Framework. These proprietary frameworks have enabled insurers to optimise cost, innovate & re-engineer their business processes.
In addition, our suite of key insurance offerings has helped clients modernise their legacy systems, consolidating, and optimising core insurance platforms. and accelerating digital transformation. We offer a full spectrum of services, including Application development, support & maintenance, legacy modernisation, Digital Services, Infrastructure Management Services, predictive analytics, portals, mobile apps, and IoT enabling our clients to take their growth and profitability to the next level.
We've also embraced digital transformation to enhance operational efficiency, streamline processes, and reduce operational costs. Our 'IdeaTree Challenge' initiative fosters innovation within our organisation, leading to cost-effective solutions for our clients. Our client-centric approach, strong domain expertise, and vendor consolidation programs have further contributed to cost optimisation. This forward-thinking approach not only reduces costs in the long run but also positions us for sustainable growth and profitability.
Emerging technologies such as AI, ML, blockchain, and IoT are gaining traction in the insurance sector. Can you provide some specific use cases where Coforge has successfully implemented these technologies and the resultant benefits or challenges faced during their integration?
Coforge has successfully implemented emerging technologies across various insurance projects. For example, in collaboration with our clients, we've used AI and ML for predictive analytics to streamline underwriting operations and expedite claim settlements, resulting in cost efficiencies. Coforge collaborated with InsurNode to create an on-demand insurance platform harnessing the power of blockchain technology. The solution aimed at enabling customers to tailor their policy purchase experience based on their specific needs and desired coverage amounts. These implementations have brought numerous benefits and ensure successful integration with changing customer needs.
Our 5000+ insurance domain subject matter experts, with over 3,500 of them domain-certified in INS, CPCU, CII, and LOMA, are a testament to our focus and commitment to developing strong domain capabilities across different platforms and technologies. With expertise in multiple lines of business, we work with both legacy and new-age technology to provide enhanced support to our clients.
The rise of Generation AI (Gen AI) is transforming customer expectations and interactions across industries. How do you perceive Gen AI's impact on the insurance sector, and what initiatives has Coforge undertaken to cater to the needs and preferences of this tech-savvy generation?
Gen AI is indeed reshaping customer expectations, and Coforge is ahead of the curve in addressing this transformation.
Coforge Quasar, our flagship solution, is a game-changer in the insurance landscape, offering far-reaching transformation possibilities. Beyond its role in enabling upfront digitisation, Coforge Quasar catalyses insurers to provide unique insights and faster solutions to policyholders. By harnessing the power of Gen AI and cognitive intelligence, Quasar empowers insurers with data-driven decision-making capabilities, allowing them to glean actionable insights from vast amounts of data. This not only enhances underwriting and claims processes but also enables insurers to tailor policies with precision, offering customers exactly what they need.
Quasar's omnichannel capabilities ensure that policyholders receive a seamless and responsive experience across various touchpoints. Moreover, its streamlined processes drive cost efficiencies, making insurance operations more agile and cost-effective.
With the insurance landscape evolving rapidly, what are the key trends and market dynamics that you foresee shaping the industry in the upcoming years? Are there any disruptive forces or innovations that Coforge is strategically prepared to capitalise on?
In the fast-evolving insurance industry, we recognise several pivotal trends that are reshaping the landscape. The relentless impact of emerging technologies, such as AI, ML, blockchain, and IoT, continues to drive innovation. The expectations of policyholders are undergoing a profound transformation, propelled by the rise of Gen AI, demanding personalised, data-driven experiences. Furthermore, there's a growing emphasis on data and analytics as insurers seek deeper insights to refine risk assessment and optimise operations.
Coforge Insurance Solutions is leading the charge in modernising and specialising in core insurance platforms, making us the preferred partner for insurers embarking on transformative journeys in today's evolving insurance landscape. We seamlessly integrate cutting-edge platforms with our top-tier insurance advisory services and leverage premier partnerships with industry leaders like Duck Creek, Insurity, BondPro, and more to cater to our client's evolving needs.
We are strategically prepared to capitalise on disruptive forces and innovations, driving transformation, empowering clients with the latest technologies, and delivering seamless digital experiences to lead the way in today's dynamic insurance landscape.
"Exciting news! Elets Banking & Finance Post is now on WhatsApp Channels Subscribe today by clicking the link and stay updated with the latest insights!"
Click here!
Elets The Banking and Finance Post Magazine has carved out a niche for itself in the crowded market with exclusive & unique content. Get in-depth insights on trend-setting innovations & transformation in the BFSI sector. Best offers for Print + Digital issues! Subscribe here➔ www.eletsonline.com/subscription/